Klayman: Did WaPo Get This Alleged Info From Some in the Intelligence Agencies Who Were Illegally Spying on Trump During His Meeting With the Russian Ambassador in the White House?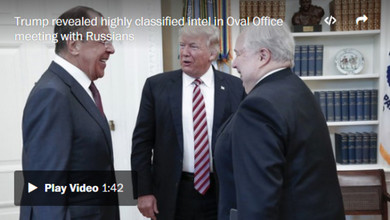 By Greg Miller and Greg Jaffe
Washington Post
May 15, 2017
President Trump revealed highly classified information to the Russian foreign minister and ambassador in a White House meeting last week, according to current and former U.S. officials, who said Trump's disclosures jeopardized a critical source of intelligence on the Islamic State.

The information the president relayed had been provided by a U.S. partner through an intelligence-sharing arrangement considered so sensitive that details have been withheld from allies and tightly restricted even within the U.S. government, officials said.



Follow us on Twitter
and
Facebook