Klayman: U.S. Should Not Bluff If We Are Not Ready to Militarily Take Out North Korean Leadership and Nukes!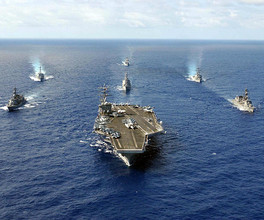 By Theodore Bunker
Newsmax
April 18, 2017
The United States has added two aircraft carriers to the growing number of ships headed to the Korean Peninsula, The Daily Mail reports.

South Korea's Yonhap News Agency first reported that the USS Ronald Reagan, currently in Yokosuka, Japan, and the USS Nimitz, now under assessment in Oregon, will leave for the Sea of Japan next week. China and Russia have reportedly launched "spy vessels" to follow the ships, according to The Yomiuri Shimbun in The Japan News, citing unnamed sources in the Japanese government.


Follow us on Twitter
and
Facebook