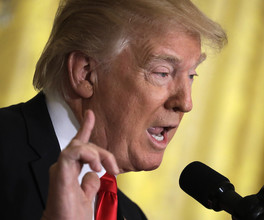 By Mark Swanson
Newsmax
February 16, 2017
President Donald Trump spent a significant part of his press conference Thursday – called to announce his new labor secretary nominee – stepping up his attacks on the mainstream media and debating several members of the press in attendance.

After announcing Alexander Acosta for labor secretary, Trump began prepared remarks by taking the media to task.

"I'm making this presentation directly to the American people . . . because many of our nation's reporters and folks will not tell you the truth," Trump said from the East Room of the White House.


Follow us on Twitter
and
Facebook