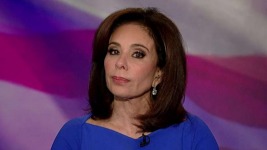 Fox News Insider
February 6, 2017
This week on "Justice," Judge Jeanine Pirro criticized U.S. District Judge James Robart's ruling halting implementation of President Trump's executive order barring immigration from several countries in the Middle East.

"This halt needs to be reversed, it will be reversed," she said, "It is eminently constitutional and will be upheld on both legal precedent and national security grounds."

Robart, of the Western District of Washington, ordered the ban be lifted last week after the State Attorney General Robert Ferguson sued Trump.


Follow us on Twitter
and
Facebook