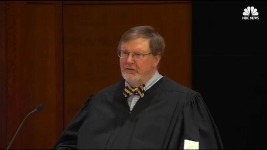 By Marilia Brocchetto
CNN
February 4, 2017
The federal judge who temporarily blocked President Donald Trump's immigration order represented the disadvantaged and refugees before he was nominated by then-President George W. Bush.

James Robart, who presides in Washington state, was unanimously confirmed by the US Senate in 2004.

Here's more about the judge, who once told senators that people should get a fair shake in the legal system.


Follow us on Twitter
and
Facebook